Ruddick's Story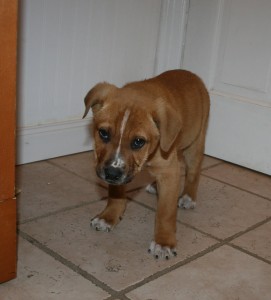 Ruddick came to Woof Connections when Allison received a call from one of her co-workers that this precious little puppy had followed her two boys home. He was sitting on their porch with a wet shirt on that said something about being a "Princess" (yes, he is a boy!) It was very cold outside and she was asking what she should do because her landlord does not allow pets.
Allison had her send her a picture to help determine whether he would have a chance if she took him to the "pound"…well one look at this cutie and how could they resist. Within minutes, Allison was on her way to pick up the new puppy.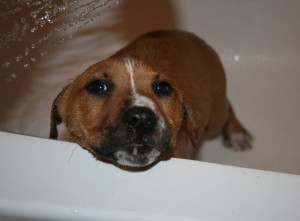 He was the most precious little chub…albeit very stinky – so bathtime was first priority! He quickly became adjusted to his new foster canine siblings and was a loving little puppy.
Luckily, Allison posted him online and Ann Brownell showed his pictures to Upper Peninsula Animal Welfare Shelter – UPAWS – in Negaunee Township, MI) members and they agreed to take him into their program. They also added several more pups to their list to rescue from the Osceola Animal Shelter in Osceola, AR.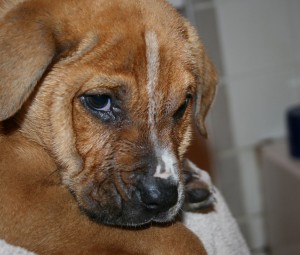 In March, 2011, he and 6 others (terme the "Lucky 7") headed to WI, where a UPAWS volunteer met them and transported them to MI. Allison drove the pups to St. Louis, where she met fellow rescuer Kelly, who coordinated their overnight stay at Off the Leash Dog Grooming in Ballwin, MO.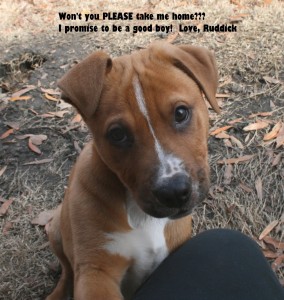 They then met up with another transport that originated in Springfield, MO. Transport coordinator extraordinaire Kerin put together a "Run Sheet" for the leg-to-leg transport, where volunteer drivers (the "Rescue Road Warriors") picked up the babies and headed north.
The journey didn't end there. Not only did amazing people volunteer their time and gas to drive short distances (typically 1-2 hours each), several offered their homes the next night so that these (and other rescued doggies) could snooze in the comfort of a home before heading out the next morning.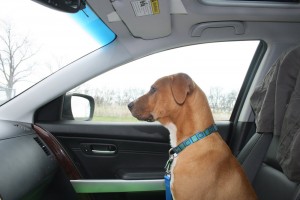 On Sunday, they arrived at their final destination in MI. A huge thank you to everyone along the way to helped these pups get rescued – from Beth in WI who hooked Woof Connections up with Ann from UPAWS, to shelter manager Dyana for agreeing to this amazing rescue.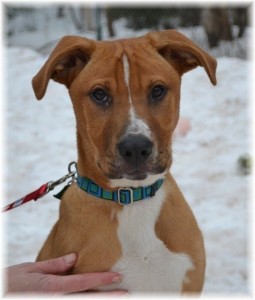 Here is a video of Ruddick at UPAWS playing in the snow just before he was adopted: http://www.youtube.com/watch?v=QGsr8U8ZpKw
By the end of March, all the puppies were adopted, including Ruddick, the last adopted of the bunch, on March 31, 2011.
Ruddick is now "Rex" and according to his adopter is "one very happy dog! I am definitely enjoying life with him!" Here is a picture of him in his new home!