TEAM JOURNEY!
WE WANTED TO THANK EVERYONE FOR THEIR GENEROUS SUPPORT OF JOURNEY AND HIS MOMMY!  PLEASE CONTINUE TO SUPPORT THIS BEAUTIFUL FAMILY!   HERE IS HIS UPDATE: 
We are so grateful to Journey's supports who helped raise $680 towards his medical bills on my first race for Team Journey.  His last vet visit had cost just under $950 and that included an echo for his heart and x-rays which determined the seriousness of his spine problems.   He will be going in every couple months (vet recommends every 4-6 months) for another echo so we can keep a monitor on his heart and also determine what meds to put him on for that.   His echo visits will be close to $450 each visit.    He is so happy to know he has such great friends and family that want to help keep him healthy and happy.  Thank you everyone!  Terri (mom)
WE ARE SUPER EXCITED ABOUT TEAM JOURNEY!   Check out his Facebook Page when you can:  https://www.facebook.com/?ref=tn_tnmn#!/groups/341636512594578/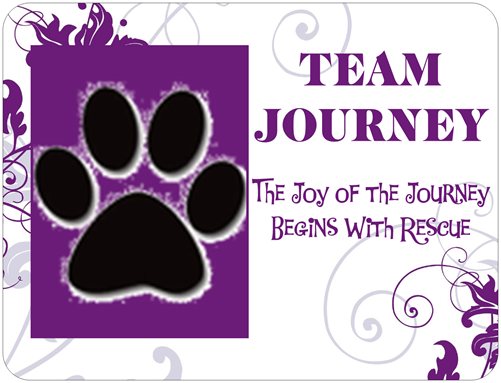 PLEASE DONATE TO SUPPORT TEAM JOURNEY:    http://www.youcaring.com/pet-expenses/running-for-journey-race-1/77881 
(or if you prefer to donate via Paypal, you may use the following email address:  terri.urban@communityfirstcu.org)
BACKGROUND INFO (brief history):  Journey was the little bitty runt we saved from a bad situation in Proctor, Arkansas in May, 2012.   With the blistering heat in Arkansas, we had to make the decision to take Journey away from his mom and siblings at the age of approximately 2 weeks old as his health was deteriorating.   Journey is the only bottle fed little puppy we have ever had and the bond was formed immediately.   Our dog sitter, Aynalyse, even helped save this precious boy by feeding him while we were at work.  Everyone loved Journey (and you would understand if you met him).        
Journey at approximately 2 weeks old:
Journey a couple weeks later:   
 From the beginning, you could tell that little Journey had some difficulties walking.  He was always a little "different" and we prayed we could find the perfect family to care for our little guy in time.   Well…that prayer was answered when a young couple, Luke and Terri, applied to adopt Journey in Wisconsin.  Thanks to Allie's sis, Kelly, Journey hitched a ride to Wisconsin. 
 Our last photo together as a little pup…taken just before the hand-off to Allie's sis: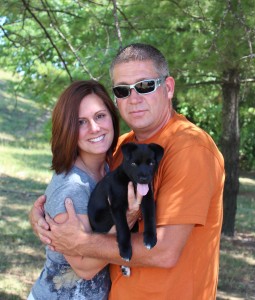 Journey even got to hang out with the infamous Wilbur (RIP sweet boy) in St. Louis, my sis' special doggy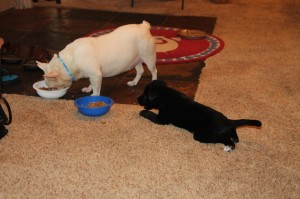 Journey's arrival in Wisconsin!
 Our dear friends Jaime and Glen assisted with the adoption process since they live in Wisconsin as well.  We were able to visit Journey in November, 2012, when he was about 6 months old.  What a joy it was to see this little guy thriving under Terri and Luke's care. 
Recently, the couple noticed that Journey was having more difficulty walking and was extremely short of breath.  We knew from previous vet appointments that he has always had a heart murmur.  He broke his leg not too long after being adopted (an accident by his little kitty friend and a chair….).  Journey even had laser treatments and hydro (water) therapy to help his legs!  He seemed to have difficulty with his leg healing properly, but this was different…something else was wrong.   
Terri and Luke took Journey to see their vet and then ultimately, a heart specialist.  Ultimately, Terri and Luke were given the bad news that Journey's heart valves are not working properly.  They also indicated that he has some skeletal abnormalities that are of serious concern due to possible fractures in the future.  The specialist did not seem to think that Journey would live more than about 2 years.  Our heart sunks as we heard that, so we cannot imagine how his "parents" felt.  However, one thing we know for sure is that Journey is a true fighter.   He has been given pain medication and they plan to try some heart medications in the near future. 
 Waiting on the Doc to come in for the Echo Oct 21st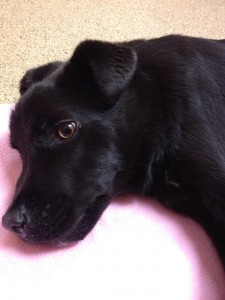 Journey chilling at home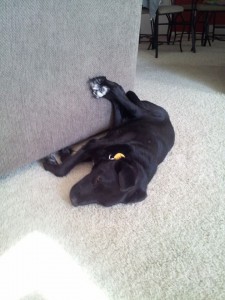 In the meantime, Terri has decided to dedicate her new-found love of running to their sweet boy.  Her very first HALF MARATHON (her second so far though) in honor of Journey is this Saturday, November 9th in Nashville, TN.  We would be elated if we could gather some financial support for Terri and Luke on behalf of Journey so that he can receive whatever medical care he may need in the future.   His bill is already quite large as you can imagine.  This guy is so special everyone.   He is on a Journey (thanks to our friend Susan for that wonderful and fitting name) and we would LOVE for you all to be a part of it.  Terri plans to dedicate all of her runs to rescue dogs in need, whether it be for Journey or another precious soul, so please help us support her in her efforts.   Journey's needs are ongoing, so please feel free to donate after the race if unable at this time. 
 Much love to you all, Allie and Kevin Carroll
Terri's very first Half Marathon!!!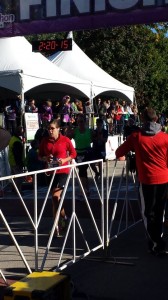 We couldn't let Terri go to her first dedicated race without the right gear!  The back says "Rescue Foster Adopt"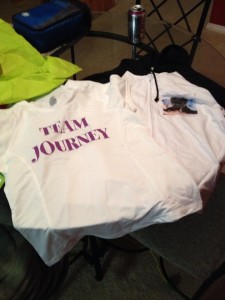 AGAIN, PLEASE CONSIDER DONATING BY CLICKING ON THE LINK BELOW:
http://www.youcaring.com/pet-expenses/running-for-journey-race-1/77881